Analytical ETL And autonomous ML Platform
Self-Service starting at $100 per month

Multi-Tenant Instances

Dedicated Instances

White-Label/OEM
Free Trial Available: https://modelfactory.modernanalytics.com
Out of the box, complete machine learning, including automatic feature creation, feature selection, fitting of GB, Regressions, Neural Networks and more. Full versioning off all processes submitted, including versioning of all predictive models built. Easily compare various versions of models to determine where changes occurred. Fully automated model governance to evaluate models and track model performance over time to eliminate point-and-click in production - no need to look at a predictive model if it is within governance criteria.
Connect directly to data sources such as Snowflake, My SQL, SAS, CSV files and more. From there, leverage exisiting data nodes such merging, transposing, pivoting or anything else required to build a proper analytical data set. Within nodes, Python/Pandas is available for leveraging your own code or augment existing nodes. Scoring nodes can apply the results or the results can be extracted to score natively via Python or SQL. API scoring is available as well.
Self-Service and Multi-Tenant are 100% cloud based - no local software required. On-premise and white-label instances available.
Contact sales to schedule a free 1h consultancy to get started. Full SaaS available - ask for a quote.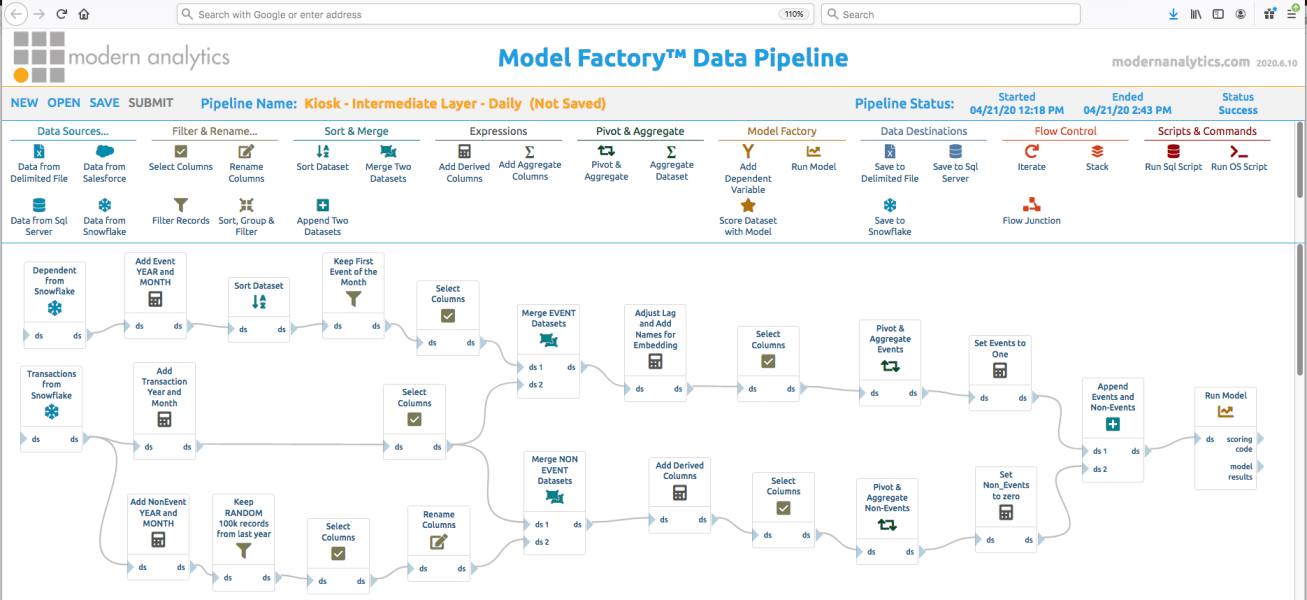 Predictive Analytics on ANY scale
Model Factory and Data Pipes can handle large data and thousands of models. Visual workflows that can be run in pieces, as a whole or scheduled. Unlike Alteryx, workflows can be stopped throughout to be more efficient in debugging data. What takes thousands of lines of code in SAS, can be done with a small effort through a visualized work flow.
Wide Range of Applications
Model Factory has been used to solve problems in most industries including finance, automotive, life-sciences, oil services, retail, etc.
With over 100 years of Development
Model Factory has been developed over the past 20 years with production in mind
Cloud-based Memory based Containerized